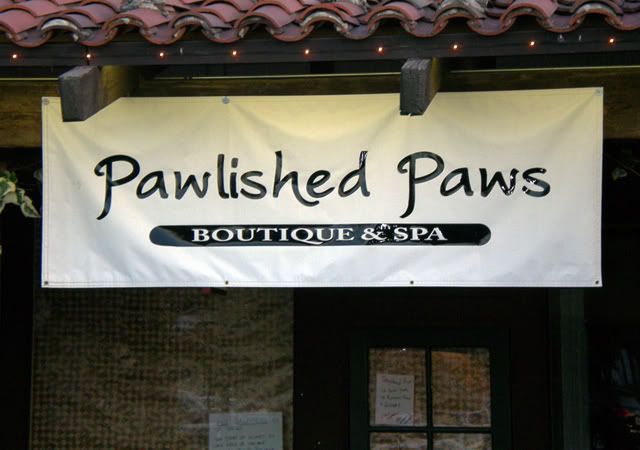 When I think socal, I think refined, I think sophisticated, so this place just fits right in. Still, I've got to admit that when I saw this sign I pretty much wanted to vomit. What is up with puns for pet related services, they have this knack for coming up with the gayest cutesy names I've heard, like "Dogma" in San Diego. But I suppose that the type of person who would take their pet to a day spa is probably the type of person who would think "pawlished" is clever. God, I've got to get out of here.
On a brighter note, I came up with a sweet title for my MA Thesis - "Moral Responsibility in an Irresponsible World." I don't really know anything about moral responsibility, but this title just popped up in my mind and it sounded too smart not to put on my resume. Is it a bad idea to write a paper based on a title? I think I can convince myself that it's not, actually I'm pretty sure I can. I'm getting a job teaching GRE test prep at Kaplan to pay off some of my summer debt. I owe $100 here, $150 there, you know.
Also, and this is a big one, I'm working on a jacket design for my first book, bearing the title of my MA Thesis. It's like a 16 year old who already has her wedding gown picked out, but more smarter and intellectual. I pretty much think it will revolutionize philosophy of action, if only I can make the cover aesthetic enough. Or better yet, I'll just hold out for the inspiration to come, like the 16 year old waiting for prince charming. Life is much easier when you don't make any decisions one way or the other.
Bringing the arc back down again, imagine that the US won a race, but instead of a race it was just the way things are, and instead of winning it just sold a shit load of weapons to developing countries.
Way to go
, I need one of those giant #1 foam arms to shove down my throat.