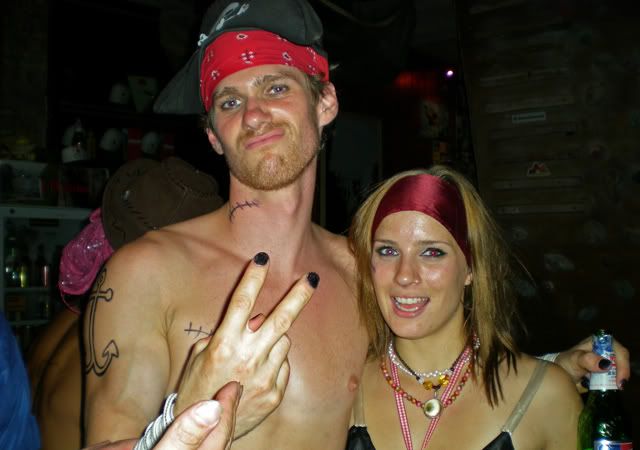 Chinaclimb sent us off in style yesterday, perhaps a pirate party? That hat you see is a cowboy that I had modified by some dude with a hand crank sewing machine by the river. But this is what I don't get, in the last week I've purchased six swords and then when it came time to party pirate style they were no where to be found. My epithet, Alan Red Beard.
Colton
went all out on this one, which tattoos are real and which were for the party?
Here
is Claire and Jake with the baijiu, I don't think I will ever love a woman half as much as I love my Baijiu. By the way, Chinese moonshine party in SoCal in about a month, as soon as my homemade rice wine cures.
I'm not entirely sure about this, but I think the most fun thing I've ever done is run through crowded streets in China brandishing a sword and yelling yelling aarrrrr. Ever.
So the
shot
of me and Abi, and then my favorite photo,
Alan Red Beard
and some blond head.