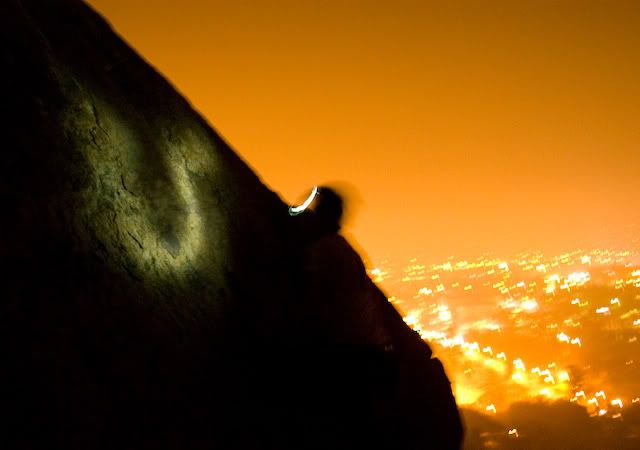 Yesterday was full of research and climbing. Studies in the morning, an hour at the quarry in the later afternoon, studies studies studies, then a midnight Rubidoux bouldering session. I soloed Original Sin (5.11b) by headlamp at the quarry, whew. Soloing at night is strange, the darkness makes you feel like you are either right off the ground or a mile up above a void.
Jake and I took turns shooting the pics at Rubidoux while Vodka was spotting. I forget how much fun night climbing is, and drinking climbing, and so when you combine them to night-drinking climbing, it kind of blows my mind. We started off midway up on a boulder, overlooking the
city lights
. I did some more
ninja shit
cuz that's how I role.
Then we went to the top. There's a castle tower up there for some reason, but who cares why when castles are involved. You build them just because the world needs castles, like puppies or hugs or farts. So we both
climbed it
, of course. Then there was this
bridge thing
, which we also climbed. Really cool, a stone pedestrian bridge over a trail, that way you don't have pedestrians crossing the trail getting run over by pedestrians walking on the trail.
I leave off with a moment of brilliance. After I climbed the tower, the alcohol was doing its thing. Jake was on point, and got this
perfect photo
. Although words can probably do it justice, they just aren't the same as seeing it.