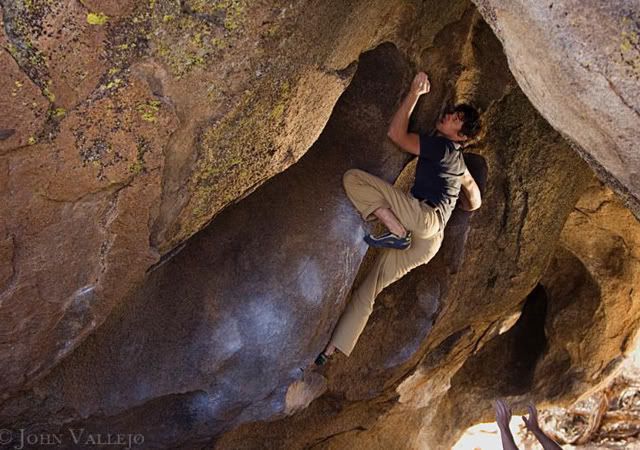 Raining in Riverside, sunny in the desert. So depressing to wake up to the dreary weather, but those oldies (
nudies?
) in Palm Springs were hording all the sun. Yet another reason to leave Riverside, and lord knows there are many.
But the point, I sent another V11 today, the Lamprect Problem (SP?) over by Pigpen. This must be one of the first few ascents, I know this problem isn't repeated often. I think I was special made for this one though. It's always refreshing when those route skills of mine come into play - I got 6 kneebars on this little boulder problem.
Sorry there aren't any photos, this is a left over shot from last weekend in Bishop, courtesy of Johnny. Hey, like I said, this morning was depressing with the rain, and depression leads to forgetfulness, forgetfulness to lack of a camera. Or so I'm told.
[UPDATE] - I hear from a reliable source that this is likely the second ascent of the problem. Not bad, especially since the FA was over five years ago.