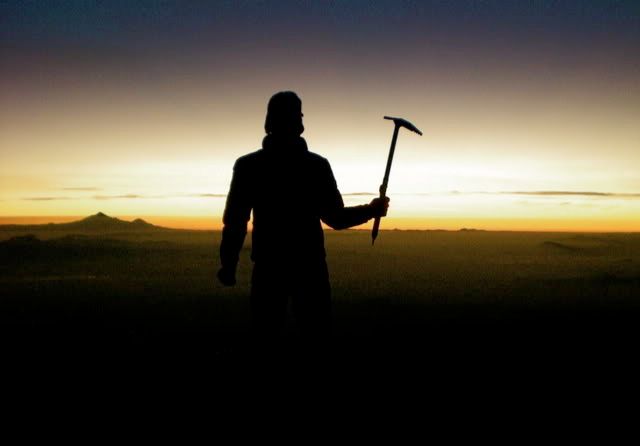 The update. I left Potrero Chico to get a look at the south of mexico. So the party relocated - flew into Mexico City, met Eleonor at the airport, met Jesse at the hotel, new surroundings, new trip plan. No more climbing rocks, what nonsense, now it's all about the volcanoes.
After a day in the
city
we bussed over to a small town at the base of Ixta, not the badass volcano we originally planned on, but considering we didn't have warm clothes or boots of crampons, we thought it might be a little more...I don't know, close to the realm of possibility.
So towards
La Muerte
, we taxied up to the trail head to find it closed. We spent the night at 12,000 ft in some strange and empty visitor's center we found at the gate. I've never seen anything like it, we had the whole place to ourselves to do with as we pleased. The night guard even locked us in to keep the bandits from stealing out stuff. How strange, knowing there is a padlock between you and the outside world.
We hitched a ride to the trail head the next morning, ate some fucking awesome quesadillas at 13,000 feet, then
hiked
up to a hut at 15,000. That's pretty high, pretty fucking high to sleep at. But luckily sleep wasn't an issue, since the elevation, mice, a party of goobers, and a creepy kilo of meat kept us from getting any.
At 4:00 am Jesse and I went for the summit, watched the
sun rise
, crossed a glacier, and stood on top of Ixta, at 17,104 ft, the seventh highest peak in north america and the third highest volcano. It was pretty much miserable, I realize again how much I despise climbing mountains. It's boring, tiring, and a lot of work. I'll stick to rocks until I forget this lesson learned. Probably next summer I'll do something stupid like this again.
But the most irritating part of the whole thing was the lack of information. There is some shitty guide, probably the worst guide I've ever seen, and a little on the internet, but none of it is reliable. We didn't know if we needed ice axes (most people said yes, but we didn't), or crampons (most said yes, but we didn't), or a tent (once again, glad I hauled this fucking thing up the mountain), or where to sleep, or where to leave our shit, or how long it was (anywhere from 3 to 10 hours to the top we were told), or if there was water on the mountain (lots of yes, but there wasn't).
We were the only whiteys on the mountain when we did it, but when we got down there were three other groups going up. I felt like the platonic ideal of knowledge, telling everything Truth that I now knew so well. Everyone else climbing the thing was decked out in snow pants, crampons, high-teck gear, while I did it in tennis shoes and khakis.
Got down and bussed to Puebla. More to come.