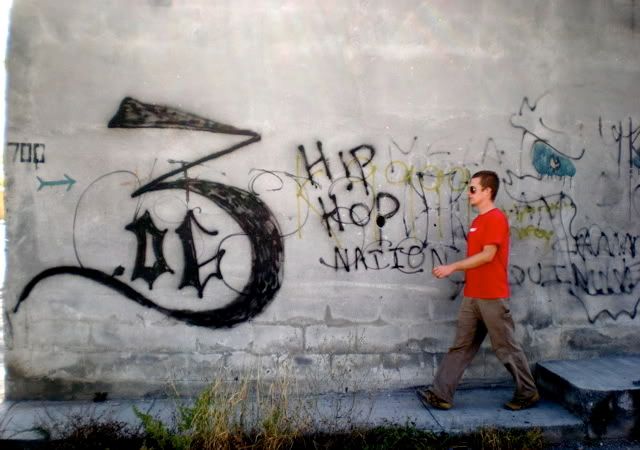 Look at Jesse, being all third world hip with his graffiti. Now he is gone, off to mexico city, so I'm stuck in El Portrero Chico alone.
My endurance is coming back, slowly. It is really too bad that I won't be able to stay here longer, but a volcano is waiting -
Pico de Orizaba
, the tallest volcano in north america. I'm flying down to mexico city on christmas to climb it. Meeting Jesse down there, we are going to learn how to self arrest at 16,000 ft. We may even make an instructional video, let's see how our heads are pounding.
I went climbing with these two
goobers
a few days ago. Check out that 80s style. Hot. Yesterday I soloed some 5.10 up a badass spire, although this
self-portrait
doesn't really do it justice. Those guys on the other spire took some photos looking across, so hopefully I'll get those in a couple days.
Then I met up with some mexican climbers from Monterrey, a huge city, I had no idea. I hopped on some 13c and fell a few times, then blew on the onsight of Hombre de Rifle (13a), no good excuse, just fucked it up. The rock here definitely isn't the greatest limestone out there, even for north america. But in the winter, your options are limited on this continent, so I suppose it is about as good as it gets. El Salto is supposed to be better for the hard stuff, but it is a few hours away and not as road trip friendly without a car. I mean, how could I give up my wi-fi in the tent?
Finishing up a paper still, sleeping in a tent, rock climbing a bunch, this isn't too bad. Anyone know the season for mexican wrestling? I really think I need to go see a match when I'm in the city. Do they even have seasons for mexican wrestling?